Two Bad Hits – Two Good Learning Opportunities
The last two Hawks games I got to watch, I've had the displeasure of seeing two hits I'd rather not ever see in the game. The first was Alex Ovechkin hitting Brian Campbell from behind, the second was former Hawk, James Wisniewski with a head-shot to Brent Seabrook. Both hits unfortunately led to injury. Both plays were examples of hits the NHL (and USA Hockey & Hockey Canada) wants to see out of the game. While many can argue over how many games each player deserves for their actions, I think these scenarios provide a great teaching opportunity for youth players.
Ovechkin on Campbell
In this particular instance, Ovechkin and Campbell were racing to a loose puck near the goal line. Campbell, the first one there, was in front of Ovechkin in a clearly vulnerable position. Campbell was: 1) a dangerous distance from the wall 2) not facing Ovechkin 3) never had a chance to defend himself. Ovechkin proceeded to shove Campbell from behind. As bad as the injury sustained by Campbell was (collar bone and ribs – I think), it could have been a lot worse. In that split second, it wouldn't have been impossible for him to have gone into the wall head first. Players need to understand the dangerousness of checking from behind – this single moment in lapse of judgement could have led to something far worse than it did. If the player isn't facing you, don't check or push him/her.
Wisniewski on Seabrook
This hit has a bit more ill-intent behind it than Ovechkin's did. In this case, the check was clearly a retaliation for a border-line hit to the Duck's Corey Perry earlier in the shift. Wisniewski's hit had several different aspects to it:
1) Interference – Seabrook did not have the puck, nor was he the last one to touch it. The only intent of the check was to retaliate.
2) Charging – Wisniewski is a defenseman. He came in from the tops of the circles with his only intention to make a hit. When he finally came barreling in, he left his feet.
3) Head Contact – The hit was high to begin with, then he followed through with his hands to the face of Seabrook (see freeze-frame below) which drove his head into the wall.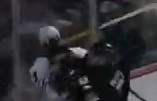 All these aspects of the hit make it a dirty one. Coaches must teach players the basics of proper checking technique, but moreover need to emphasize from a young-age that the only reason to check is to separate the player from the puck.
Hopefully players and coaches alike can use these two negative instances and take positive lessons from them.