Why Goal Scorers Bury the Puck
Dan Rosen – staff writer for NHL.com – posted an awesome article on 4/7/10 about the NHL scoring race between Alex Ovechkin, Sidney Crosby, and Steven Stamkos titled Chasing Rocket: Why Ovie, Sid and Stamkos Score.  While the article goes into specifics about each player's style of play, what interested me was where they were scoring their goals from on the ice.  In my previous post about the Box Plus One Defensive Zone Coverage, I touched on the importance of defending your "home base" first.  As a reminder, here's the area I'm referring to: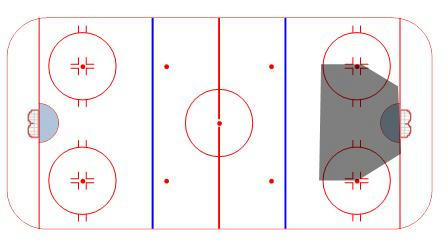 Now take a look at that area compared to where each player is scoring the majority of their goals from:  (Note – since these files are property of NHL.com, I can't post them directly to the blog, so I have to link them)
Alex Ovechkin:  http://cdn.nhl.com/images/upload/2010/04/ovi-chart-LG.jpg
Sidney Crosby: http://cdn.nhl.com/images/upload/2010/04/crosby-chart-LG-mod.jpg
Steven Stamkos: http://cdn.nhl.com/images/upload/2010/04/stam-chart-LG.jpg
So what can we learn from these great goal scorers? To me, it's one simple thing: don't pass up opportunities to shoot the puck in the prime scoring areas of the ice.  Now, that's not to say there aren't times when it's right to make a pass here – but too often I see players try to chase that elusive "perfect scoring opportunity" – 99% of the time, it won't happen. Goal scorers score by shooting the puck and shooting it with a purpose! ….oh, and it doesn't hurt to get in the habit of driving to the net and stopping in front for a rebound!