HockeyShare Stat Tracking + Google Calendar
If you're one of the hundreds of people who uses HockeyShare to track your team stats, and also happen to be one of the millions of Google Calendar users, you'll be excited to hear about our new feature allowing you to subscribe to your team's schedule directly in Google Calendar.
That's right, now you can subscribe directly to your team's practice schedule and/or game schedule right in Google Calendar – without having to manually enter any of the dates and times.  The best part….if you make a change to the schedule on HockeyShare, the changes will automatically be reflected in your Google Calendar!*  No more trying to keep everything straight on your own – now it's auto-magic.
To get started, simply go to your team page on HockeyShare and click on "Add Schedule to Google Calendar" located under the "Options" heading on the lower-left side of the page.  Enjoy!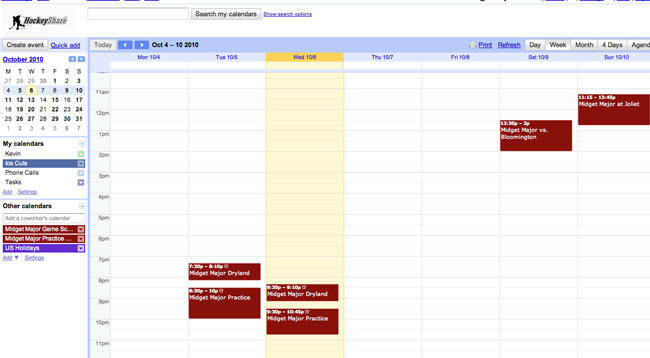 *Note: Google Calendar does not update instantly, it may take several hours for your changes on HockeyShare to be reflected on your Google Calendar.